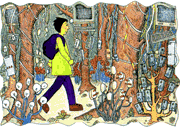 Did I Say Hairdressing?
I Meant Astrophysics
(1998, 14 minutes)
Narrated by Alan Bennett
Difficult, dangerous, dirty and damaging to the environment? That's what science, engineering and technology (SET) are like. Or so outsiders tend to think - particularly women and girls. And Zod, great man of science, would confirm their worst suspicions. But Zod's daughters, and the twins, Joanne and Joseph, have other ideas. They know SET can be creative, caring, cooperative and essential to conservation. In order to find out more, the twins keep changing places - but Joanne runs into trouble when she answers a cry for help. Her adventures take her deep into the Technological Jungle...
Subverting themes from traditional stories, this entertaining and thought-provoking cartoon helps to show why women are under-represented in SET. It illustrates the subtle and the not-so-subtle gender typecasting which still often prevail, from babyhood right up to professional level; but by taking a positive, practical approach, it encourages women and girls to consider study and vocational training in these fields. The film aims to help audiences appreciate the ways in which SET affects our daily lives.
DID I SAY HAIRDRESSING? I MEANT ASTROPHYSICS will raise awareness and stimulate discussion in any educational or training session, conference or presentation. It will be enjoyed by the general public, employees, students of all ages, and everyone concerned with equal opportunities in science, engineering, and technology.
A booklet containing discussion notes and a resource list is supplied free with the DVD.
This film was made with financial assistance from the EC Medium-Term Community Action Programme on Equal Opportunities for Women and Men (1996-2000). Assistance was also received from COPUS, Committee On The Public Understanding Of Science.